Commercial transactions, public procurement
Commercial Transactions
The firm advises its clients on commercial transactions of all types, including drafting and negotiating a full range of commercial agreements and business arrangements.
As a generally rapidly growing area of legal practice, our lawyers also give advice in electronic trading matters, e.g. structuring and mandatory terms of contracts of internet-based trading services, relating administrative proceedings.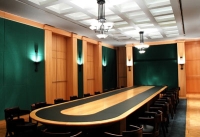 Intellectual Property
In the modern business world the ability to provide legal advice and service in respect of the laws regarding intellectual property and related areas (e.g. copyright, trademarks) is expected. The firm is pleased to assist its clients in intellectual property matters occurring in relation to their operation. Our colleagues gained knowledge and practice especially within the field of trademarks (managing trademark registration, transfer of trademarks, etc.), franchising (negotiating and drafting franchise contracts together with other connected types of contracts) and copyright law (advising clients in connection to copyright and internet related copyright issues, licensing agreements, agreements relating to software, etc.).
Public Procurement (governmental tenders)
An important segment of the market is the field of state, governmental, municipality or similar commissions, orders. This area is subject to the mandatory rules of public procurement, in which our colleagues gained special knowledge through practice. Our colleagues were involved in public procurement procedures in both sides, by representing contracting authorities and tenderers as well, from the stage of submitting tender announcements to the Public Procurement Office, through the managing and administration of procedures, negotiating and drafting accompanying contracts, and to the follow-up procedures as well.